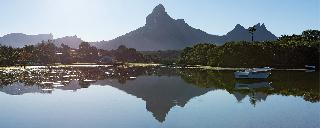 Le Paradis Beachcomber Golf Resort & Spa a accueilli du 30 août au 01 septembre derniers la deuxième édition du National Sport for Good Summit. Cet évènement, qui est une première à Maurice, était organisé dans le cadre du Sport for Good Foundation de la branche sud- africaine de l'Association Laureus. Laureus comprend la Laureus World Sports Academy, la Fondation Laureus Sport for Good et les Laureus World Sports Awards, qui exploitent collectivement le pouvoir du sport pour promouvoir le changement social et célébrer l'excellence sportive.
Morne du Plessis

Laureus réunit ainsi les plus grandes légendes vivantes du sport, venant de disciplines aussi diverses que le football, le cricket, le tennis, l'athlétisme, le skateboard ou encore la course automobile. Ces derniers mettent leur charisme et le soutien financiers de divers partenaires au service du changement social. Des athlètes à l'instar de l'américain Edwin Moses (champion olympique du 400 mètres en 1976 et 1984), Tanni Grey-Thompson (championne paralympique d'athlétisme), ou encore la championne de tennis tchèque Martina Navratilova sont des membres actifs de Laureus. Tous les membres sont convaincus que le sport a le pouvoir d'améliorer des vies.
En 17 ans d'existence, Laureus a recueilli plus de 85 millions d'euros et quelques 3 millions de jeunes ont bénéficié des quelques 150 projets qui ont été réalisés à travers le monde. A Maurice, Laureus soutient le projet Hope House, une ONG qui à travers divers actions sociales, vise à donner la possibilité aux démunis d'accéder aux besoins essentiels.
L'objectif de cette deuxième conférence de National Sport for Good Summit était de réunir sur la même plateforme, différents acteurs du programme Laureus (ambassadeurs, chargés de mission et autres partenaires) afin de mettre en lumière les différents programmes de Laureus. Le point fort de la conférence a été la présence d'une dizaine d'ambassadeurs de Laureus (à l'instar de la spécialiste des longues distances la sud-africaine Elana Meyer - médaillée d'argent aux Jo de 1992, l'ancien capitaine des All Blacks, Sean Fitzpatrick, ou encore du nageur sud-africain Ryk Neethling-médaillé d'or au Relay 4×100 m nage libre au JO de 2004).
Pour Morne du Plessis, Chairman de Laureus Sport for Good Foundation – South Africa et coach légendaire des Springbok en 1995, ce colloque a été une opportunité pour les participants de se réunir et de trouver ensemble les meilleurs moyens de venir en aide aux plus démunis à travers le sport. « The first summit was held in Johannesburg and this year we wanted to gather all our project leaders, ambassadors and trustees, to give them the opportunity to exchange ideas in order to strive for best practices and improve the impact of their particular projects.", explique –t-il.
Lors de son allocution lors de l'ouverture du colloque, ce dernier a par ailleurs remercié le groupe Beachcomber qui a apporté son soutien à Laureus en tant que partenaire évènementiel.
"I'd like to thank Beachcomber, Event Partner and host for the Laureus Sport for Good South Africa Summit, who have provided us with the opportunity to be able to put on an event of this nature for our delegates. Beachcomber has a rich tradition of supporting sport in Mauritius, as well as a Foundation that focuses on community upliftment, complimenting our Sport for Goof movement. Their passion and professionalism in supporting this event is greatly appreciated and we look forward to a healthy partnership both benefiting both Laureus Foundation and Beachcomber.", a-t-il déclaré.