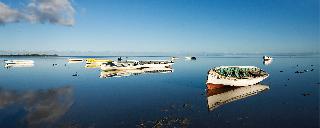 Du 01 au 08 octobre dernier les hôtels Beachcomber ont accueilli 26 agents de voyage anglais, partenaires de Beachcomber Tours UK, dans le cadre de la Beachcomber Experience. Lors de cet Eductour, placé sous le signe de l'Art of Beautiful, les professionnels du voyage ont été invités à vivre les nouveaux rituels, mis en place dans le cadre du rebranding du groupe, comme de véritables artisans de Beachcomber.
Du Beautiful cocktail au Beautiful Table, où les hôtes ont savouré les plats signatures mauriciens savamment préparés par les Chefs Exécutifs, en passant par le Beautiful Story où un conteur d'histoire leur a raconté avec passion, l'histoire de l'Ile Maurice, ou encore la découverte du Beautiful Lights, lors duquel ils ont assisté à l'illumination du Paradis Beachcomber, les agents de voyage ont vécu des moments inoubliables. Un autre moment fort de leur itinéraire a été le Beautiful Wedding, célébré au Shandrani Beachcomber.
« Comme la plupart était à la première visite à Maurice, ce voyage initiatique leur a aussi permis d'être au cœur des opérations et de vivre l'expérience dans la peau des artisans de Beachcomber. », déclare Sarah Archer, Sales Manager de Beachcomber Tours UK. « Ils ont aussi participé à un florilège d'expériences comme des ateliers de face paintings au Kids Club Beachcomber, atelier de Housekeeping, la création de la décoration florale, réalisation de la pièce montée, et des canapés pour le Beautiful Wedding. », poursuit-elle.
A l'issue de leur séjour, les agents de voyages ont été conquis par la beauté de la collection d'hôtel et la bonté des artisans de Beachcomber et pourront désormais mieux vendre l'Art of Beautiful.