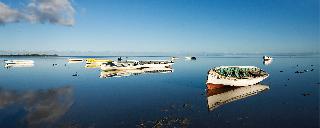 Comme chaque année, ITB Berlin, l'une des plus importantes foires internationales du tourisme rassemble représentants d'hôtels, tour-opérateurs, agences de voyages, associations hôtelières entre autres. L'édition 2018 qui se tient du 7 au 11 mars, offre une belle vitrine à Beachcomber Resorts & Hotels. C'est l'occasion pour le groupe de présenter ses nouveautés, notamment le Canonnier Beachcomber Golf Resort & Spa, qui a rouvert ses portes en septembre dernier après quatre mois de travaux de rénovation, ainsi que la nouvelle aille du Victoria Beachcomber Resort & Spa dédiée aux couples, le Victoria for 2.
Beachcomber est représenté à cet événement par le Chief Executive Officer du groupe, Gilbert Espitalier-Noël, le Chief Sales and Marketing Officer, François Venin, le Group Head Of Sales, Nicolas Staub ainsi que Kervyn Rayeroux, General Manager du Canonnier Beachcomber, Rico Paoletti, General Manager des hôtels Victoria Beachcomber et Mauricia Beachcomber, Lothar Gross, General Manager du Shandrani Beachcomber et les membres de l'équipe du bureau d'Allemagne.
Plate-forme par excellence de B2B – avec la participation de plus de 180 000 visiteurs, dont 108 000 professionnels du secteur, et plus de 10 000 exposants, représentants d'agences et des médias du monde, le salon de l'ITB est une véritable opportunité pour les professionnels de découvrir les nouvelles tendances et les concepts de l'industrie globale du tourisme.
« C'est l'occasion pour Beachcomber de rencontrer ses partenaires européens et ainsi consolider des relations qui perdurent pour certaines d'entre elles depuis près de trente ans », indique pour sa part François Venin.