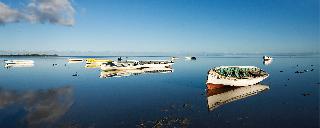 Beachcomber Resorts & Hotels a le plaisir de participer comme partenaire à « Mauritius Tomorrow – Moris Dime », une expérience sur 500 jours célébrant le patrimoine architectural, industriel et social mauricien, qui culminera avec le 50e anniversaire de l'indépendance du pays le 12 mars 2018.
La soirée de lancement de « Mauritius Tomorrow – Moris Dime » s'est tenue le jeudi 17 novembre 2016 au Canonnier Beachcomber Golf Resort & Spa, en présence d'une centaine d'invités. « Quel plus bel écrin que Beachcomber pour héberger Moris Dime dans une célébration commune de The Art of Beautiful », soutient Axel Ruhomaully, cofondateur avec Franck Depaifve de Meta-Morphosis, l'agence d'ingénierie culturelle belge à l'origine de l'initiative. Celle-ci est spécialisée dans la préservation de la mémoire des lieux et la transmission de la fierté des hommes.
Le projet est placé sous le haut parrainage du collectionneur d'art urbain français Nicolas Laugero Lasserre, également directeur de l'école du management de la culture et du marché de l'art (ICART) et fondateur et président d'Artistik Rezo. L'artiste sculpteur français Pierre Matter, le parfumeur créateur français Blaise Mautin, ainsi que l'artiste urbain et graffeur belge Denis Meyers ont également assisté au lancement de « Mauritius Tomorrow – Moris Dime ».
Réunissant un certain nombre de partenaires locaux et étrangers, cette initiative bénéficiera de la collaboration de 50 artistes mauriciens et internationaux de janvier à décembre 2017. Des créatifs d'horizons divers tels que les artistes urbains Magda Sayeg (USA), Alice Pasquini (Italie), Vincent Abadie Hafez (France), YZ Yseult (France), Faith47 (Afrique du Sud), DAleast (Chine), Jace (île de La Réunion), Ose Cuttingart (France), Pixel Pancho (Italie) et Pokras Lampas (Russie), ainsi que le photographe Franck Vogel (France), le créateur ébéniste Pierre Vanherck (Belgique) et l'artiste plasticien Bernard Pras (France) collaboreront au projet. Du côté des talents locaux, on retrouvera l'artiste urbain Joshila Dhaby, le créateur bijoutier Ravi Jetshan, l'urban sketcher Florent Beusse et le musicien-compositeur Eric Triton, entre autres.
Ces artistes investiront une diversité de sites, des anciennes usines aux entrepôts, en passant par les quais de Port-Louis, afin de mettre en lumière et en couleurs les traces de l'histoire économique du pays. Une démarche commune, accessible et universelle qui permettra aux habitants et aux visiteurs d'ouvrir les yeux sur les liens historiques entre le développement économique et les 50 ans d'indépendance du pays.
L'initiative rendra plus particulièrement hommage à ces personnes qui ont participé au rayonnement international du savoir-faire mauricien. Elle adressera également un message fort aux jeunes générations et privilégiera une approche collaborative en impliquant les habitants et les écoles de l'île Maurice, mais aussi de l'île Rodrigues.
« Beachcomber est heureux d'être l'un des principaux partenaires de ce projet novateur, qui va célébrer le savoir-faire mauricien en assurant dans le même temps une transmission de l'ADN mauricien aux jeunes générations, cet ADN du 'construire ensemble' et du 'vivre ensemble' forgé tout au long de quatre siècles d'histoire », indique le Chief Sales and Marketing Officer du groupe, François Venin.
« Ce projet est en adéquation avec notre nouvelle plate-forme de marque et 'The Art of Beautiful'. Il est fidèle à notre projet d'entreprise centré sur l'humain : chacun des 5 000 employés de Beachcomber est un artisan. Dans le même esprit que Moris Dime, nous avons lancé cette année une école de partage, qui permet aux aînés de transmettre aux jeunes les valeurs qui ont fait la réussite du Groupe. Cette initiative suscite beaucoup d'enthousiasme de tous ceux concernés et vient, encore une fois, conforter l'importance du dialogue et du partage…. », ajoute-t-il. « Nous partageons, avec Axel et Franck, les mêmes valeurs. Ce genre d'événement est une précieuse contribution du 'vouloir construire' et du 'vouloir vivre ensemble' mauricien, qui permettent d'assurer une pérennité à laquelle nous sommes très attachés. »
« Mauritius Tomorrow – Moris Dime » donnera lieu à la sortie d'un beau livre, au vernissage d'une exposition et à de nombreuses autres formes d'expression artistique en mars 2018.