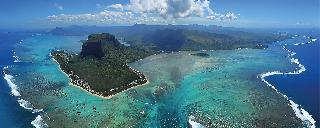 Un dîner mettant en exergue les richesses de la cuisine italienne, c'est ce qu'a proposé le restaurant Il Gusto, du Dinarobin Beachcomber le 11 janvier. L'hôtel a en effet accueilli deux chefs de renom, notamment Tony Lo Coco et Nino Graziano, tous deux originaires de la Sicile, région du sud de l'Italie, pour un évènement culinaire. Accompagnés de Guillaume Bregeat, Chef Exécutif du Dinarobin Beachcomber et de sa brigade, les chefs Lo Coco et Graziano ont orchestré un dîner gastronomique d'exception. Les clients de l'hôtel, la presse italienne, de même que quelques convives ont eu la chance de vivre cette délicieuse expérience gustative et par la même occasion de découvrir les traditions siciliennes, grâce au menu composé principalement des produits authentiques de la région.
De gauche à droite : Chef Nino Graziano et Chef Tony Lo Coco
De gauche à droite : Chef Exécutif du Dinarobin Beachcomber Guillaume Bregeat, Chef du Restaurant Il Gusto Vijay Ittoo, Chef Pâtissier Eric Lebrasse, Chef Nino Graziano et Chef Tony Lo Coco
Connue pour sa riche cuisine, la Sicile est très marquée par la tradition italienne comme par la diversité de ses influences. Comme apéritif les chefs ont donc proposé : un Street food de Palerme (arancinette, panelle et 'crocche'), suivi d'un Antipasto : Spaghetto de thon cru à la sauce de bottarga, miette de mie pain toasté et coulis d'anchois, Oeuf cuit à basse température aux artichauts croquants à la sicilienne. Comme plat, les convives ont dégusté une Soupe de langouste de Nino, ainsi que ''La stigghiola" de poisson. Et pour finir en beauté, un dessert Tout à base de limon.
Les chefs étoilés, Tony Lo Coco et Nino Graziano, qui ont tous deux officié dans de prestigieuses maisons à travers le monde, ont ainsi revisité leurs classiques, pour le plus grand bonheur des épicuriens du Dinarobin Beachcomber. C'était également l'occasion pour les artisans de l'hôtel de bénéficier de leur riche expérience gastronomique.
"Le Morne Peninsula, which is home to Paradis Beachcomber and Dinarobin Beachcomber, has always set the standard for gastronomy thanks to the hotel's exceptional restaurants. Il Gusto is the ideal venue in which to bring together local products (especially produce and other local fare) and traditional Italian and Sicilian dishes reinterpreted by two Michelin-starred Sicilian chefs. In the kitchen, it was a meeting of two wonderful and unique islands. To mark the occasion, a select group of lifestyle and specialist journalists were invited to cover the event, highlighting the international quality of Beachcomber Resorts & Hotels' culinary standards.", explique Serena Coda, de Beachcomber Hotels Italy.
L'Italie est un marché important pour Beachcomber. Cet évènement qui porte la signature du bureau Beachcomber Resorts & Hotels en Italie, contribuera certainement à promouvoir le groupe Beachcomber et la destination Maurice sur le marché italien.