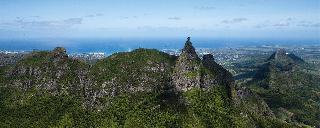 Beachcomber Resorts & Hotels est fier d'annoncer que le Victoria Beachcomber figure au palmarès des Travellers Choice Award 2019 de TripAdvisor, le site de voyage le plus consulté au monde.
Ce quatre-étoiles de Beachcomber s'est en effet illustré pour la quatrième année consécutive dans la catégorie « Top 25 Hotels for Families », dans la région Afrique. Cette récompense est le fruit du travail des artisans qui oeuvrent afin d'offrir un service d'excellence à leurs clients.
Situé dans le nord de l'île, le Victoria Beachcomber est l'adresse privilégiée des familles à Maurice. L'hôtel offre en effet une palette de prestations, des chambres spacieuses qui permettent aux couples de partager leur chambre avec leurs enfants ou encore des Appartements Familles avec deux chambres et deux salles de bains.
Et, au coeur de l'hôtel, un univers spécialement conçu pour les enfants, du plus grand au plus petit :
Le Kids Club, qui accueille les enfants de 3 à 11ans. Il est situé sur la plage et propose toute une gamme d'activités réparties par thématique : Be Creative, Be Together, Be Local, Be Eco Friendly ou encore Be Sporty. Au programme entre autres, observation des poissons du lagon, chasse aux trésors, cours de cuisine….
Côté ado, le « Teens Clubs » aménagé comme une salle de jeux moderne et spacieuse avec billard, baby-foot et ping-pong, accueillent les jeunes de 12 à 17 ans et les invitent à lier connaissance à travers des activités encadrées (plongée en apnée, tournois de tennis, tournage de courts métrages…)
Soucieux de permettre à ses jeunes hôtes de profiter pleinement de leurs vacances, le Victoria Beachcomber leur propose d'adhérer au Teens Club Beachcomber, une application mobile gratuite innovante qui permet, entre autres, de consulter le programme des activités du jour, de partager ensemble ses activités, d'échanger entre eux et avec les animateurs, de se repérer dans l'hôtel et de se retrouver entre jeunes.
Pour les tous petits, une biberonerie a été mise en place et équipée pour répondre aux besoins des bébés de 1an à 3 ans avec table à langer, chauffe biberon, stérilisateur, menu repas pour bébé etc.
Aussi, pour offrir tranquillité d'esprit et flexibilité aux parents, le Victoria Beachcomber offre des forfaits repas pour les enfants jusqu'à 11ans et propose des prix réduits pour ceux de 12-17ans. Pendant la basse saison, le forfait repas enfants de 0 à 17 ans est gratuit et si les enfants partagent la chambre de leurs parents, ils sont invités.
Le Victoria Beachcomber avec ses nombreux atouts demeure une adresse de référence pour les familles à l'ile Maurice.