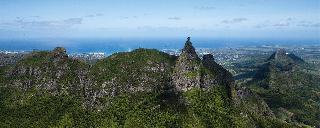 Le Spa du Royal Palm Beachcomber Luxury a rouvert ses portes il y a peu après s'être refait une beauté pour offrir un service ultra-personnalisé à sa clientèle avisée.
Le mythique palace de l'océan Indien a investi un million d'euros dans la rénovation de son espace beauté et bien-être exclusif. De la réception aux 18 cabines de soins, la décoration et l'agencement ont été entièrement repensés par le cabinet JFA Architects pour offrir aux clients des moments de totale plénitude et de sérénité.
Le nouveau Spa Beachcomber du Royal Palm propose désormais une alliance de couleurs, de matières et de formes qui crée une atmosphère où se mêlent luminosité et raffinement, avec le confort d'un chez-soi loin de chez soi. Alliés à la volupté évanescente des rideaux et revêtements muraux de la maison parisienne Casamance qui rendent chaque cabine unique, des tons tels que le gris, le blanc et le brun évoquent une élégance intemporelle. Une ambiance agréable rehaussée par un mobilier sobre et chic aux touches contemporaines, ainsi que de grandes ouvertures pour profiter de l'éclairage naturel.
Dans cet endroit paisible et accueillant, où la beauté rencontre la bienveillance et l'expertise des thérapeutes, la palette de soins « The Art of Wellness » élaborés sur mesure s'enrichit, à partir de début octobre, grâce à un partenariat privilégié avec la maison française de cosmétologie CODAGE. Des soins visage et corps sur-mesure viendront ainsi s'ajouter aux arts du bien-être et de la beauté existants.
Un écrin d'exception remis au goût du jour tout en respectant l'ADN d'une maison sur la mer, qui procure des moments de bien-être sur mesure et de pure détente pour un lâcher-prise total…