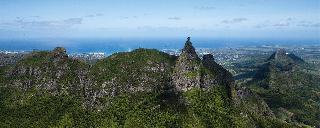 L'hôtel Le Victoria, un 4-étoiles+ Beachcomber situé sur la côte nord-ouest de l'île Maurice, se classe en tête en 2016 parmi les 10,000 hôtels longue distance partenaires du leader mondial des groupes touristiques intégrés à travers le monde.



The award was recently presented to the General Manager, Rico Paoletti by TUIs Destination Manager, Sabine Döring along with the TUI Holly Award and the TUI Top Quality Award. The three awards highlight Le Victoria''s commitment to delivering quality and consistent service excellence. They are a guarantee of the highest guest satisfaction.

The Holly Award is the premium prize for the 100 most popular TUI hotels worldwide. It is the highest accolade that can be bestowed upon a TUI Hotel and stands for everything that makes a TUI holiday perfect: great attention to detail, superb service and outstanding cuisine.
The award is based on the biggest customer survey carried out in the German tourism industry. Half a million TUI guests decide every year what hotels can count themselves among the crème de la crème of the international holiday hotel trade. It is an important booking criterion for TUI guests and selling criterion for travel agencies.

The TUI Top Quality Award is the prestigious award for the 250 best hotels in TUIs guest survey.

In keeping with Beachcomber Hotels'' continuous investment to enhance guests experience, Le Victoria Hotel is currently undergoing a facilities expansion and makeover programme including the introduction of a new Adults-Only concept, Victoria for 2.

Counting among the most popular family resorts in Mauritius, Le Victoria Hotel will remain fully operational until completion of the extension works in December 2016. Guests will then discover a host of new featured that will add to the refined surroundings of the resort, while retaining its charm and distinctive character, much to the delight of regulars.