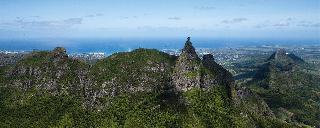 Beachcomber Resorts & Hotels a le plaisir d'annoncer la nomination de Gregory Coquet au poste de Directeur Général de l'hôtel Royal Palm Beachcomber Luxury, à partir du 1er février 2017. Gregory succède à Jacques Silvant, qui lui transmet les clés de ce fleuron du groupe Beachcomber après y avoir passé plus de 16 ans.
De nationalité mauricienne, passionné d'hôtellerie, Gregory compte plus de 14 ans de carrière dans cette industrie. En 1999, à la fin de ses études au collège St Esprit, il intègre la « Glion Institute of Higher Education » en Suisse où il décroche un « BsC. (Hons) Degree in International Hospitality Management » suivi d'un « Bachelor Degree in Hospitality and Tourism Management ».
Ses diplômes obtenus, il décide de travailler une dizaine d'années en Europe, afin d'y acquérir une expérience internationale. Il occupera notamment le poste de « Project Manager » entre 2002 et 2005 chez Potel & Chabot, le traiteur parisien de prestige et d'organisation de réception.
Puis il intègrera le mythique hôtel de Crillon à Paris en tant que « Senior Sales Executive ». Il poursuivra sa carrière au sein de divers hôtels, en Suisse, nommément Le « mirador Kempinski Lake » à Montreux, en tant qu' « Assistant Food & Beverage Director », ou encore au « Grand Hotel Kempinski » à Genève en tant que « Food & Beverage Director ».
En 2013, Gregory décide de poser ses bagages à Maurice où il a l'occasion de travailler au sein de divers établissements hôteliers.
Il rejoint l'emblématique maison du Royal Palm, en mai 2016, en tant que « Deputy General Manager » aux côtés de Jacques Silvant. A partir du 1er février il occupera donc les fonctions de Directeur Général de cette adresse mythique où depuis plus de 30 ans, raffinement et discrétion absolue sont élevés au rang d'Art.
A l'heure où Beachcomber, fort de sa nouvelle identité, amorce un virage important dans son histoire, Grégory espère porter haut les valeurs de cette prestigieuse maison et conforter son rayonnement dans le paysage hôtelier mauricien.