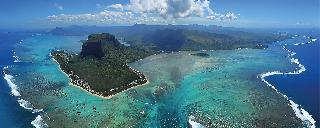 La stratégie de Beachcomber consistant à renforcer sa présence sur les réseaux sociaux vient une nouvelle fois d'être couronnée de succès. En effet, avec 37,500 abonnés à son compte (@Beachcomber_hotels), Beachcomber se positionne à la 16ème place des marques du tourisme sur Instagram, le plus important réseau social de partage d'images au monde.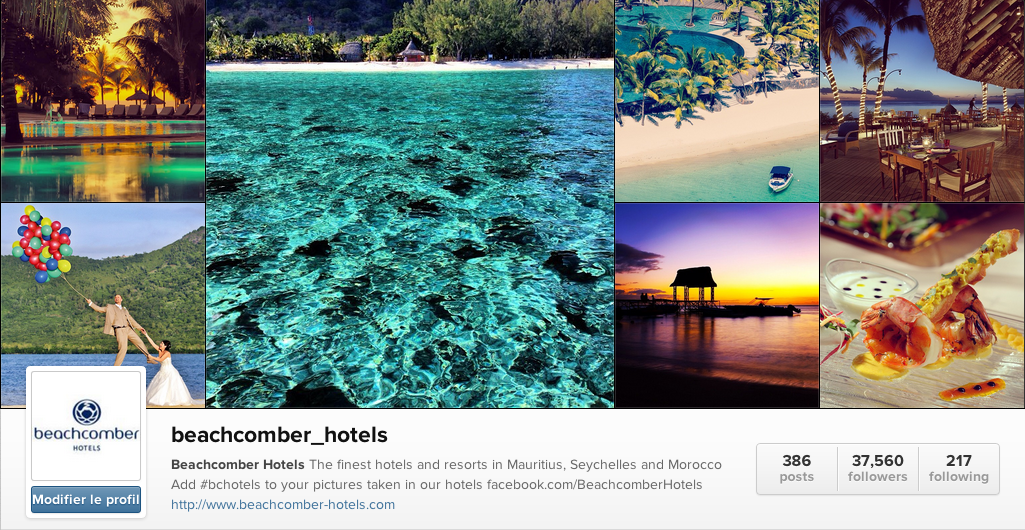 Créé en 2010 et racheté par Facebook en 2012 pour 1 milliard de dollars américains, Instagram compte aujourd'hui plus de 150 millions d'utilisateurs actifs à travers le monde. Il constitue de fait pour les marques une plateforme incontournable dans l'univers du « social media marketing ».
Le site Nitrogram50 vient de publier le top 500 des marques leader et influentes sur ce réseau. En tête, caracolent les grandes marques de renommée mondiale telles que Nike, Starbucks et la NBA, tant pour leurs nombres d'abonnés (followers) que pour leur capacité à faire circuler les hashtags (mots-dièses).
Première marque mauricienne au classement global, Beachcomber Hotels s'est hissée à la 452ème place de ce top 500. Dans le domaine du tourisme, Beachcomber Hotels est la 16ème marque la plus influente au monde et devance même des pointures comme Visit Norway (17ème), Sheraton Hotels & Resorts (23ème), Westin Hotels (29ème) ou encore Mariott Hotels and Resorts (47ème).
A noter que Tourism Australia, Museum of Modern Art et Pure Michigan occupent les trois premières places du classement tourisme.
Depuis janvier 2012, Beachcomber est très présent sur le réseau Instagram. Le groupe publie chaque jour une photo de l'île Maurice, des Seychelles et de ses hôtels. Cette pratique contribue aussi à véhiculer l'image de l'île Maurice à travers le monde.
Enfin, réel investissement marketing, Beachcomber a l'honneur d'accueillir régulièrement des « instagrammers » (photographes sur Instagram) mondialement connus : @goldie_berlin (Polonaise), @colerise (Américain) et dernièrement @croyable (Néerlandais). Ces derniers cumulent à eux trois plus d'un million d'abonnés !
Voici ci-dessous quelques splendides photos prises par @croyable, le dernier en date à avoir séjourné dans les hôtels Beachcomber !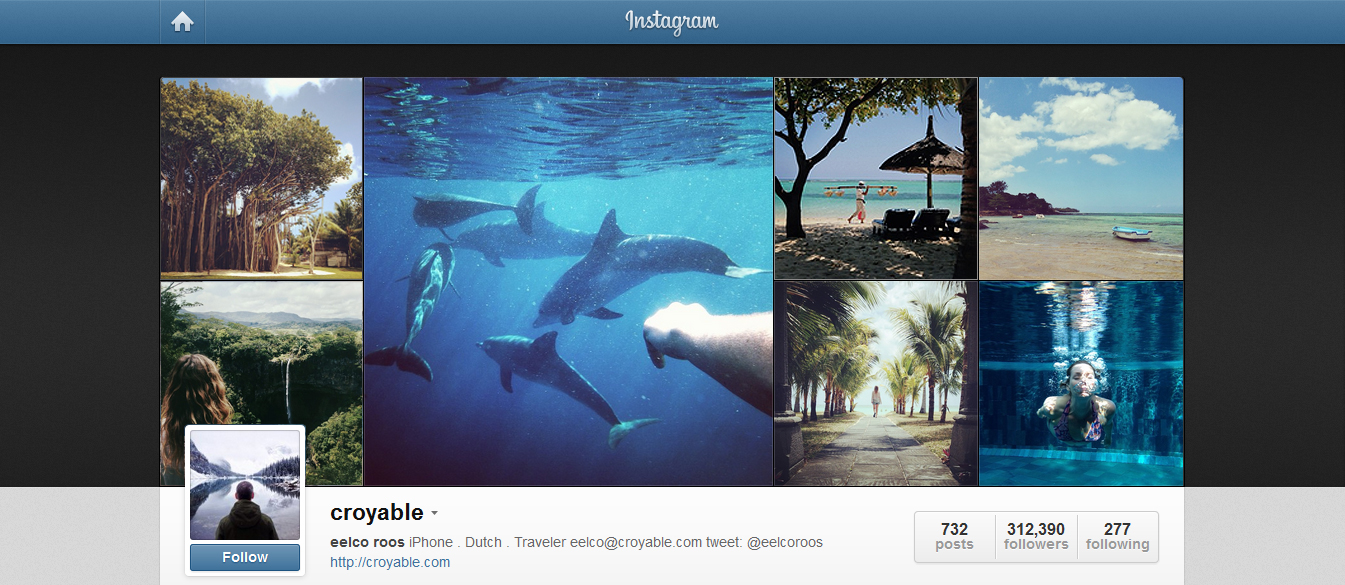 Découvrez les dernières photos publiées par @beachcomber_hotels
http://instagram.com/beachcomber_hotels
A propos d'Eelco Roos
Eelco Roos est un photographe indépendant originaire des Pays-Bas. Les nouvelles technologies, et plus particulièrement celles qui lui permettent de créer et de partager ses photos, suscitent chez lui un vif intérêt.
En 2011, il commence à utiliser Instagram. Dès lors, sa vie change ! Très vite, il conquiert un public loyal de « followers » à travers le monde et se bâtit une solide réputation sur le plus grand réseau social de partage d'images au monde.
A ce jour, Eelco Roos compte plus de 300,000 « followers » de tous horizons et est considéré comme l'un des « instagrammers » les plus influents au monde.
Ce statut lui a amené de nouvelles opportunités professionnelles. En effet, de nombreuses marques et offices de tourisme basés en Irlande, au Canada, en Israël, à Prague et en l'Espagne ont fait appel à ses talents et à son réseau d'influence pour renforcer leur image publique.
Une des particularités d'Eelco Roos est qu'il utilise toujours son IPhone pour faire ses photos. Beaucoup d'entre elles ont fait l'objet de diverses publications (en format numérique ou papier) dans magazines prestigieux tels Saatchi Gallery Magazine, Time Magazine, Business Insider ou encore le Huffington Post.