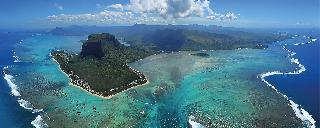 Beachcomber Resorts & Hotels is expanding its golf offering through a preferred partner deal, signed on Friday 16 December 2016 with Mont Choisy Le Golf, the newest 18-hole golf course in Mauritius, opening in November 2017.
"We have five hotels and over a thousand rooms in the north of Mauritius and this partnership quickly emerged as an obvious move for us," says Beachcomber Resorts & Hotels' Chief Sales and Marketing Officer, François Venin.
With nine 18-hole courses, Mauritius has established itself in recent years as a premier golf destination. The north was the only region without a golf course, but this will be rectified in November 2017 with the opening of Mont Choisy Le Golf.
As part of its rebranding process launched in September 2016, Beachcomber has decided to rename its two hotels situated closest to the golf course as follows:
- Trou aux Biches Beachcomber Golf Resort & Spa
- Canonnier Beachcomber Golf Resort & Spa
Through this privileged partnership, all Beachcomber guests will enjoy unique benefits such as a personalised welcome, the possibility of booking the best tee time slots in advance at preferential rates as well as a dedicated shuttle service from Canonnier Beachcomber and Trou aux Biches Beachcomber.
At the club-house, guests will benefit of individual lockers where they will be allowed to store their golf equipment throughout their stay.
Mont Choisy Le Golf is a 6,830-yard, « par 72 » championship course designed by Peter Matkovich. The renowned South African golf architect has designed and built many other courses around the globe.