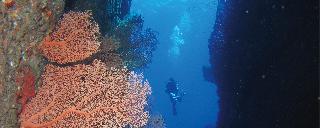 Academia mergulho no Resort
Victoria Beachcomber Resort & Spa
Located in the north-west of the island, at the heart of Victoria Beachcomber, this diving school is found on the beach itself, only 5 metres away from the water edges. Nominated in 2016 and 2017 by the World Travel Awards in the "Indian Ocean Leading Dive Resort" category, the dive school can boast that we have the best dive site and the best service on the Island.
The diving school is very close to diving sites that include three wrecks, drop-offs and magnificent dives on coral reefs. Specialised in children diving , the school offers exclusive dives to families where children (as from the age of 10) can experience the wonders of Scuba Diving with their parents. The dive school also has a full inventory of tailored children diving equipment.
Os melhores locais para mergulhar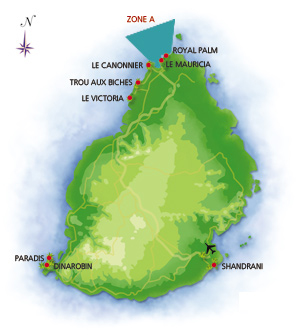 A região Norte oferece mergulhos de 13 metros, interessantes e atrativos. Madréporas coloridas e fauna abundante, destroços náuticos repousados nos fundos do mar, com o objetivo de criar recifes artificiais para estimular a vida subaquática marinha. É possível mergulhar em excelentes condições durante todo o ano nesta parte da ilha.
OS MELHORES LOCAIS PARA MERGULHAR, ZONA A
LE MUR (26m)
À esquerda da ilha de Coin de Mire, a norte das Ilhas Maurícias, com belos relevos que sobem até à superfície, existe uma parede magnifica, coberta de gorgónias com fauna de recife e a presença de grandes peixes-papagaio em cada mergulho. Por vezes, observa-se a passagem de grandes predadores, nomeadamente o atum de dente-de-cão. Um mergulho muitas vezes arriscado, se a corrente estiver forte. Este mergulho termina na Baie de Confetti, no meio de corais coloridos, anémonas e peixes-palhaço.
ROCHES BALEINE (de 26-38m)
Um bom local para mergulhadores experientes, que vai sendo cada vez mais profundo. Roches Baleine oferece uma fauna bastante variada, que pode ser apreciada até à zona dos 20 metros de profundidade. Os peixes-papagaio, bodiões e os peixes-palhaço serão rapidamente substituídos pelas garoupas, moreias-leopardo gigantes ou outros tipos de diodons, que ocupam as partes mais profundas deste local. Por vezes no verão, deparamo-nos com a passagem de espécies maiores, como os marlins ou tubarões.
MERVILLE PATCHES (13m)
Um fundo de areia branca, onde a luz incide sobre pequenos blocos de recife espalhados por toda a parte. O local deve o seu nome às inúmeras espécies de moreias que se cruzam em vários recifes, que se ligam entre si. Aqui vive uma fauna abundante, incluindo algumas espécies de peixes raros ou endémicos. É recomendado para fotógrafos ou para um mergulho de readaptação.
AQUARIUM DE GRAND BAIE (14m)
O mergulho perfeito para os fotógrafos subaquáticos, que desejam mover-se a baixa profundidade e com uma boa luminosidade. Neste local, os fundos marinhos são constituídos por areia e corais e acolhem uma fauna vasta e diversificada; estas são as espécies que podem ser encontradas nestes locais: pequenas moreias, raias elétricas, peixes-anjo, peixes-leão ou peixes-porco.
OS MELHORES LOCAIS PARA MERGULHAR, ZONA B
STENOPUS (de 38 a 40m)
Um mergulho magnífico. Os peixes-anjo-imperador, os canários-do-mar, as garoupas gigantes e toda a fauna de peixes de recife gostam de percorrer a imensa floresta de cnidários de coral verde, que se fixaram nos grandes blocos rochosos. É normal observar-se a passagem de grandes peixes ao lado da superfície rochosa, ou encontrar raias magnificas, ou outros cardumes de barracudas e de atuns gigantes.
HOLT ROCK (de 16 a 25m)
Aqui a paisagem é composta por corais, que rodeiam os enormes blocos de granito. Um ambiente ideal para os esconderijos dos peixes-porco titã, que vêm recebê-lo no momento da sua chegada. Existem bodiões, peixes-papagaio, peixes-palhaço, cardumes de meros-castanholas, nudibrânquios de todos os tamanhos e cores, sargocentrons e gorgónias fabulosas. Permanece o ponto de encontro com as moreias gigantes, cujo comprimento é de, pelo menos, dois metros. Mordidas pela curiosidade, estes últimos virão para serem acariciadas.
CARAVELLE (9 a 28m)
Uma plataforma superior de uma superfície rochosa com grandes blocos de pedra, que vai descendo por patamares, onde passeiam alegremente os cardumes de fuzileiros e outros peixes de recife. São frequentemente observados grandes cardumes de peixes-morcego, de barracudas e de xaréus de olhos grades. Assim como, por vezes, a visita de um tubarão, que procura o seu alimento nos corais.
ANCRE PERDUE (de 24 a 30m)
O coral verde toma conta dos três picos que constituem este local. Uma âncora imponente, também ela domada pelo coral, repousa no topo central, logo acima de uma pequena gruta polvilhada com gorgónias. Ao longo do passeio, é habitual cruzarmo-nos com peixes-pedra e peixes-escorpião, mas também com grandes diodons ou ainda lagostas.
Os destroços náuticos do nordeste
EMILY ET WATERLILY (25m)
Estas duas embarcações foram fundidas em 1981 e em 1982, respetivamente, e atualmente dão abrigo a uma fauna abundante, cuja curiosidade encantará os mergulhadores. Os destroços repousam sobre um vasto fundo em areia e a luz é sempre bela. É possível observar neste local as moreias de boca amarela e de cardumes de capitães, bem como peixes-cirurgião, caranguejos vermelhos ou marisco...
STELLA MARU (de 17 a 25m)
O Stella Maru era um barco de pesca japonês, que foi propositadamente afundado em 1987 para criar um recife artificial. Este arrastão repousa sobre um fundo em areia, bem em frente à Trou-aux-Biches. Este navio naufragado é habitado por um cardume de peixes-porco azuis. Podemos encontrar igualmente um par de moreias gigantes bastante agressivas. Surgiu igualmente uma pequena fauna marinha muito abundante, bem como peixes-pedra, peixes-escorpião, polvos, nudibrânquios e outros moluscos neste barco naufragado. Um mergulho a repetir certamente.