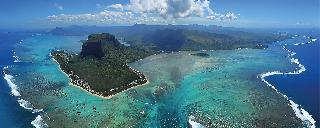 To plan a wedding or choose the perfect honeymoon destination can prove challenging. To help the bride pick her dream honeymoon destination, Beachcomber presents four hotels to choose from to suit her personality.
Are you a romantic at heart or adventurous? Do you consider yourself sophisticated or you would rather go green? Discover our selection of hotels and pick the one which suits you best.
You are romantic
Dinarobin Hotel Golf & Spa is an elegant resort located on the spectacular Le Morne peninsula in the south-west region of Mauritius.
Accommodation is housed in beautiful individual villas that promote romance and intimacy. Neutral colours and colonial-style furniture create a refined yet cosy interior.
Dinarobin is also famous for its unique Clarins spa, tucked between the legendary Le Morne Mountain and a luxuriant tropical garden.
At Dinarobin, chances are you will spend your time enjoying leisurely strolls on the beach, relaxing massages to the sound of waves and romantic dinners at the hotel's fabulous restaurants. Treat yourself to the most romantic honeymoon ever!
You are adventurous
If sports or adventure are your thing, Shandrani Resort & Spa should definitely be your number one choice for your honeymoon.
The hotel features a whole range of activities for an action-packed honeymoon. Water-skiing, ecotourism, mountain biking, boat excursions, scuba diving and golf on the resort's self-contrained 9-hole golf course are some of the many activities available at the resort. The hotel also has three amazing beaches with different atmospheres.
Furthermore, thanks to the unique "Serenity Plus" all-inclusive package, newly weds can take advantage of exclusive benefits throughout their stay. "A la carte" dinners, unlimited champagne as from 6 p.m. and all-you-can-drink wines and spirits are some of the many perks included in the price you pay upfront.
Experience the ultimate freedom at Shandrani!
You are sophisticated
Royal Palm Marrakech is the first Beachcomber resort located outside the Indian Ocean region. The prestigious hotel recently opened its doors in Marrakech.
Considered the epitome of luxury and elegance, the palatial hotel is located in a vast estate planted with age-old olive trees at the foot of the Atlas Mountain range. Located a few kilometres away from the mythical city of Marrakech, the hotel combines luxury, elegance, calm and authenticity.
The hotel facilities are simply exceptional: four restaurants headed by an award-winning chef, one of the most scenic golf courses in Morocco, a private country club and a world-class spa awaits the discerning guests.
Enjoy discovering the many treasures of the red city and its famous souks. Expect a truly magical honeymoon at Royal Palm Marrakech!
You are green at heart
If you love nature, look no more. The island of Sainte Anne in the Seychelles is where you should spend your honeymoon.
Located on a private island surrounded by a marine park, Sainte Anne Island features luxury creole-style villas set amidst a vast tropical garden.
The island has its own vegetable garden. Hiking is a popular activity at Sainte Anne with several paths to choose from. Enjoy nature at its best and discover some of the Seychelles' curiosities such as the famous "coco de mer palms". During the nesting season, if you are lucky enough, you could even spot a turtle on one of the hotel's three beaches.
A true nature's sanctuay, Sainte Anne island is also the perfect place to spend your honeymoon. Just picture yourself hand in hand on the beach watching the sun set into the ocean, exploring the tropical forest and enjoying fine dining under the stars!
For an exotic honeymoon that focuses on luxury and nature, Sainte Anne Island is your best choice.
DID YOU KNOW?
On Thursday the 10thof April 2014, the Beachomber Office in Madrid, Spain held a scrapbooking event attended by twelve honeymoon bloggers. Keep informed via Twitter: #lunademielBC!