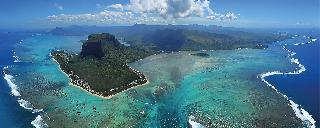 Beachcomber Resorts & Hotels proudly presents the interactive musical 'The Dodo Who Wanted to Fly' adapted from the book of Katrin Caine. The show staged by the author is an invitation to the imaginary, fantasy and humour. The show which is part of Beachcomber's signature activity 'Be Local' of the Kids Club of the group and acted by the artisans of the Kids Club and young tourists, was premiered at Paradis Beachcomber Golf Resort & Spa this week.

Monday night, 8 p.m. The garden of the Kids Club of Paradis Beachcomber livens up as if by magic with spectacular lighting effects while the actors, young and old, take to the stage. Pictures from 'The Dodo Who Wanted to Fly' are projected on a giant screen. The show begins, narrating the amazing adventure of Louis, the dodo who wanted to fly.

For 50 minutes, the budding actors dressed in their magnificent costumes signed Corinne Nisin, invited the audience – clients, Head Kids Clubs, Katrin Caine and the management of Paradis Beachcomber – to a spectacular and colourful journey punctuated with French, English and Creole songs. The show ended around 9 p.m. under a round of applause and left the audience completely enchanted.
The show is the result of a collaboration between Beachcomber Group and Katrin Caine.

"Beachcomber Resorts & Hotels created thematic signature activities for its kids' clubs: Be Creative, Be Together, Be local, Be Eco-friendly and Be Sporty. The aim through Be Local, is to allow the kids who are on holidays in Mauritius to connect themselves with the history of the island and to take home unforgettable holiday memories. This explains the two-fold partnership with Katrin Caine: entertaining and interactive reading of her book in the Kids Clubs and the staging of a show exclusively for our hotels based on her book," explains Jean-Louis Pismont, COO of the Group.

For the show, Katrin Caine accompanied the teams from the different Kids Clubs Beachcomber and the kids for weeks. "It was a real pleasure to work with the artisans. I was pleasantly surprised to witness all this talent and creativity. The little ones were impressive. It was amazing to see children outgrow their timidity as we progressed through the rehearsals," she affirms.
The writer commented the collaboration with Beachcomber Resorts & Hotels.
"The management of the group immediately saw the potential of 'The Dodo Who Wanted to Fly' to allow children from the Kids Clubs discover the history of Mauritius."

Beachcomber Resorts & Hotels is also one of the main sponsors of the show 'The Dodo Who Wanted to Fly' which will be staged at the Caudan Arts Centre in November.