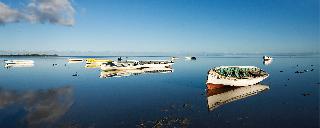 The UTRB, a race eagerly anticipated by Mauritian and foreign trail-runners alike, is rebranding as the Beachcomber Trail. The 7th edition of this 5-star sports event, organised by Beachcomber Resorts & Hotels on a yearly basis, will take place from 24th to 26th July 2020. It will unveil new concept this year, offering participants a captivating 100 km physical challenge that will take place over three days at the heart of some of Mauritius' most exceptional landscapes.

"We wanted to add a new dimension to our trail event this year. We are therefore giving trailers an opportunity to participate in a 100 km challenge via three races – two 25 km circuits and one 50 km circuit – which will be held over three days. Runners will accumulate points throughout the challenge's different stages," explains Arianne Devienne Bellepeau, Leisure & Events Manager at Beachcomber Resorts & Hotels.

Having taken place in the southeast of Mauritius for the past six years, the competition is now being held on the southwest coast for the first time. One of the race's stages will start from Paradis Beachcomber Golf Resort & Spa, which will also host the Beachcomber Trail village. Participants can expect stunning panoramic views, a unique environment and a 5-star Beachcomber welcome.

Day 1 of the competition: Friday 24th July. The first 25 km race will start out from the Chassé de Yemen in the afternoon. Trailers will discover the estate's beautiful grounds and immerse themselves in its varied and exotic flora.

Day 2: Saturday 25th July. The Beachcomber Trail's second race – set over 50km – will set out from Chassé Maingard. Trailers will run through the Black River Gorges and ascend the Piton de la Rivière Noire before making their way back down towards the stage's finish line at Paradis Beachcomber.
The third stage of the challenge, a 25 km race, will take place on Sunday 26th July. The stage will begin at Paradis Beachcomber before taking participants through the villages of Le Morne and Case Noyale in the southwest, then across the finish line for the final time at Paradis Beachcomber.

In addition to these three races, the Beachcomber Trail's classic 10km run will take place on 26th July. This race is open to those who are not taking part in the Challenge, as are the 50 km race on Saturday and the 25 km race on Sunday.
Registration for the Beachcomber Trail are now open. For more information, please visit the 'Beachcomber Events' Facebook page or website on the following address www.beachcomber-events.com/beachcomber-trail.
"If you love the great outdoors, make sure to sign up for this event. The Beachcomber Trail 2020 is not only an athletic challenge but also a nature trek and a huge amount of fun", promises Arianne Devienne Bellepeau.