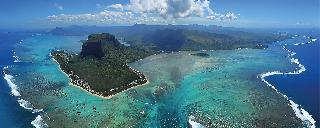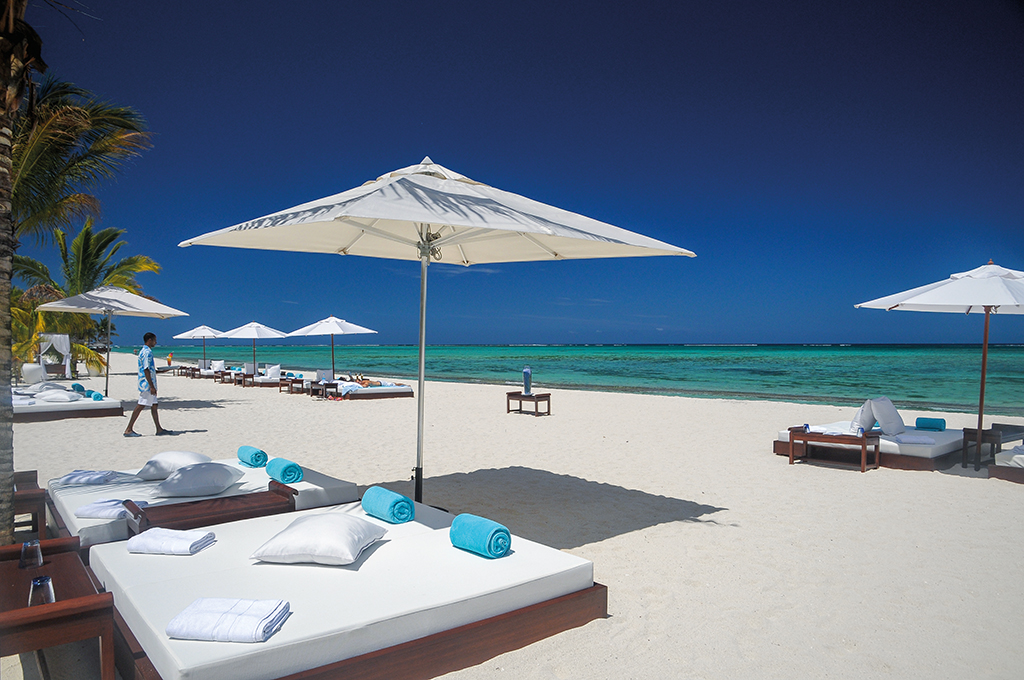 ​
Dinarobin Hotel Golf &Spa, a five-star Beachcomber resort, always looks at new ways of improving guests' experience and well-being while they stay at the resort. Known for its innovative concepts, the hotel has recently created a beach lounge exuding elegance and simplicity, in order for guests to enjoy the beach and sea in the most pleasurable way.

Inviting guests to relax in the shade of stylish parasols, comfortable day beds have been spread on the beach opposite Le Kabanon, Dinarobin's popular beach bar. This new area dedicated to rest createsenormousappeal for guests looking for both refinement and simplicity.

Welcoming guests with a sense of casual elegance, Dinarobin's beach lounge provides a stylish setting with the ocean as a backdrop.
The wooden beds look appealing against the pure white sand beach while perfectly laid-out turquoise beach towels provide a colourful contrast with the immaculate mattress covering. Whereas the lounge offers a modern and trendy vibe inspired by the luxury hotels along the Côte d'Azur, Dinarobin's unique charm and authenticity have been well preserved.

There is nothing more soothing than relaxing on a comfortable day bed, just feet away from the sea! Whether you want to forget your busy lifestyle or seek a quiet area to reconnect with your loved oneor your inner self, Dinarobin's beach lounge offers just what you need. Feel free to sleep, read and even bring along your tablet computer if you feel like it: everything is possible!

Dinarobin enjoys a peaceful location on a quiet peninsula, guaranteeing the ultimate privacy and discretion. Spreading between the Morne crystal-clear waters and the towering mountain behind, thevery special beach will infuse you with a unique sense of energy.

For your comfort, the beach in front of Le Kabanon has been entirely privatised. Day beds are rented for a full day, which means you have total flexibility - you can come and go freely!
The chic yet casual atmosphere is enhanced by the unusual combination achieved by soft electronic background music, the humming of birds and gentle sound of the waves lapping onto the shore.

Dinarobin's five-star service proves the perfect complement to the resort's original concept. Beach boys trained according to Beachcomber's high standards ensure personalized service with a smile.

From the moment you step foot on the beach, they will be at your beck and call. They will bring you drinks, snacks and refreshing towels or take your order, should you choose to sample the chef's "à la carte" menu.
You can expect simple yet tasty dishes that you will appreciate while digging your toes in the powder-like sand!