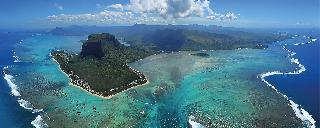 Offering the height of luxury accommodation in Mauritius, Dinarobin Hotel Golf & Spa will launch its two new villas on October 23rd 2012. The two villas occupy the most spectacular part of the peninsula. Complete with a private pool, these villas will treat guests to the finest in the art of holiday living.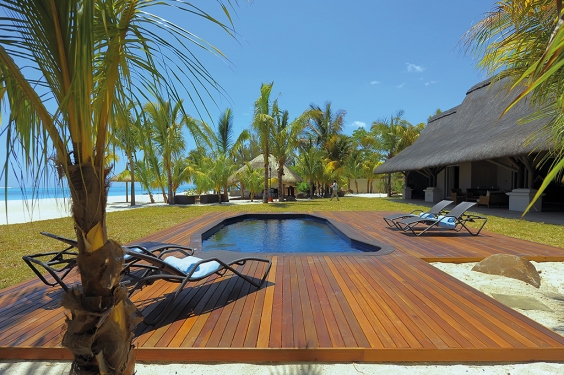 ​

The two exclusive villas are bordered by a pure white beach that extends to the perfectly turquoise ocean. The villas are generously proportioned measuring 400m² offering guests four spacious bedrooms, three bathrooms, a modern lounge, a fully-equipped kitchen as well as a large and welcoming outdoor living area.

The breathtaking view of the seemingly endless white beach welcomes guests as soon as they enter their private holiday home. The comfortable and modern lounge area, equipped with a flat screen TV and media hub is set at the heart of the villa. Its large double doors open onto the extensive terrace and garden, where guests will truly enjoy the villa's unique location. Symbolising tropical elegance, sleek wooden furniture, pure lines and soft colours characterize the interiors as well as the outdoor living areas.
Designed to promote outdoor living and shaded by a rustic thatched roof, the terrace offers a dining and relaxation area complete with chic outdoor furniture that has been thoughtfully laid out for the comfort of all guests. In the privacy of the lush garden a pool surrounded by smooth wooden decking invites guests to enjoy a refreshing moment on a warm summer's day. An elegant gazebo, bordered by palm trees offers a cool refuge and gives guests the opportunity to enjoy al fresco dining at any time of day or night. The dedicated barbecue area and outdoor bar adjacent to the gazebo complete the picture for a taste of the typical island lifestyle.
Offering a beautiful view onto the gardens and beach beyond, the master bedroom includes a lavish en-suite bathroom with separate bathtub, shower and walk-in wardrobe. In a room decorated with style and warmth, couples will find themselves in a peaceful haven, offering privacy and a sense of freedom.
Equally stylish and comfortable, three other bedrooms and two more bathrooms offer each of the guests their own space and intimacy.
Complementing the luxurious yet understated infrastructures, privileged service is offered to the villa's residents. A dedicated valet service is available to guests throughout their stay, answering to their every beck and call. Upon request, a chef is made available and an exclusive menu including fine dining and local specialities has been selected to delight each of the guests.
Everything has been thought out to ensure guests an authentic experience as well as the ultimate in privacy, service and comfort.

Technical information
Surface area: 400m²

Capacity: 8 guests (possibility of two additional cots)

Exclusive benefits
Private beach

Heated private pool

Private valet service

Private club car

Private bicycles

Services of a personal chef on request

Access to all the facilities of the Dinarobin Hotel Golf & Spa and Paradis Hotel & Golf Club

Access to the exclusive Club at Dinarobin