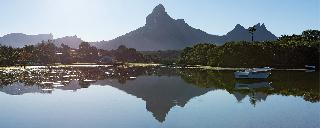 ​
If your idea of utter bliss is having a massage right on the beach in Mauritius, you will simply love Dinarobin's new detox massage where you can appreciate both at the same time.
In the cool shade of a private kiosk located close to the Kabanon bar, you will be treated to a unique sensual experience, whether on your own or as a couple.

In line with the hotel's high standards of quality and service, everything has been planned down to the smallest details to provide you with the ultimate pampering experience.
The day before the treatment, you will be briefed by the staff about the massage. All you will need to do is be ready for pick-up at 8.45 a.m. on the day, dressed in the hotel's bathrobe and disposal underwear specially dispatched to your room for the occasion.

On the actual day of treatment, enjoy being treated like royalty from the moment you step out of your suite! A private club car will pick you up fifteen minutes before the treatment starts and will take you to Dinarobin's flawless beach a few steps away.

Before you lie down on the massage table prepared for you, just take a couple of minutes to fill in your spa profile for future reference. And then, be prepared for something truly special!

A hotel focused on beauty and well-being, Dinarobin has its own twist on traditional beach massages. If you were imagining lying down on a sun lounger, think again! Instead, you will have the privilege of having your own private cabin set right on the beach, opposite the turquoise sea.

Providing a magical visual effect while conveying an effortless sense of elegance, a rustic thatched pavilion framed with immaculate white drapes is where you will enjoy your treatment in complete privacy.

Every inch of your body will be soothed as part of a comprehensive head-to-toe routine that will last for one full hour!
All elements will combine to make this moment truly one-of-a-kind. Close your eyes and breathe deeply. Enjoy the superb setting and the peaceful atmosphere that pervades in the morning sunshine.
In this quiet setting, you will rediscover the pleasure of reconnecting with nature as your body progressively relaxes in synch with the massage strokes and gentle sound of the waves lapping onto the shores.

As its name suggest, the "Dinarobin's senses awakening experience" has been designed with pure indulgence in mind.
To relax your body and mind, your therapist will smoothly apply a unique blend of essentials oils that combines the soothing properties of eucalyptus, geranium, sage, niaouli and Siberian pine.
She will put to use many massage techniques to help detoxify, drain and tone your body. Whether she applies pressure on your energy points, uses effleurage strokes or petrissage, you will feel the difference in your body right from the start.

Once the treatment is completed, another surprise awaits. A delicious natural breakfast served on the beach will prove the perfect complement to your day.

Enjoy without moderation!