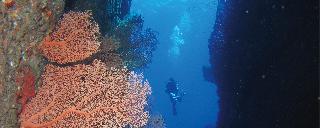 ДАЙВИНГ-ЦЕНТРЫ
Mauricia Beachcomber Resort & Spa
Расположенная в сердце Гранд-Бэй школа дайвинга при отеле MAURICIA BEACHCOMBER находится неподалёку от всех дайв-сайтов на севере острова. Большинство из сайтов достигают в глубину 15-25 метров и представляют собой прекрасную возможность сделать хорошие подводные фотографии. Пять-двадцать минут на катере – и вы на месте. Для более азартных и смелых дайверов может быть забронирован сайт The Wall у острова Куэн-де-Мир. Взрослым, которые хотят отдохнуть в одиночестве и покое, предлагается мини-клуб, который позаботится об их детях, пока они занимаются любимым делом. Школа дайвинга специализируется на подводной фотографии, и местный инструктор с радостью покажет вам разнообразные техники. Дайвинг-центр при Le Mauricia существует уже более двадцати двух лет и является старейшим при группе отелей Beachcomber.
ЛУЧШИЕ ДАЙВ-САЙТ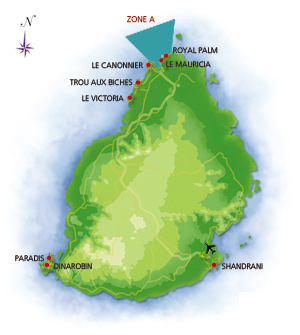 Север острова может похвастаться богатым выбором интересных мест для дайвинга, начиная с 13 метров и глубже, красочными каменистыми кораллами, разнообразием морских обитателей и специально затопленными кораблями для создания искусственных рифов и стимуляции флоры и фауны… Эта часть острова круглый год предлагает идеальные условия для дайвинга.
ЛУЧШИЕ ДАЙВ-САЙТЫ ЗОНЫ A
ДАЙВ-САЙТ THE WALL (глубина: 26 м)
Дайвинг-спот слева от островка Ганнерс Койн на севере Маврикия удивит вас великолепными подводными горками, которые поднимаются к поверхности. Здесь также располагается уникальная стена с горгониевыми кораллами, а риф богат подводной жизнью. Повсюду вас будут сопровождать большие рыбы-попугаи, но изредка на данном сайте случаются и встречи с крупными хищниками, в особенности с зубастым тунцом. Это сложное погружение при сильном течении завершается в Конфетти-бэй, где притаилось всё разнообразие разноцветных кораллов и анемонов, и косяками плавают пёстрые рыбы-клоуны.
ДАЙВ-САЙТ WHALE ROCKS – ROCHES BALEINE (глубина: 26-38 м)submarine
Сайт с варьирующейся глубиной для опытных дайверов – двадцатиметровая зона, богатая потрясающей морской флорой и фауной. Здесь вас встретят рыбы-попугаи, губаны, рыбы-
клоуны, а также огромные груперы, гигантские леопардовые мурены и другие скалозубовые рыбы, обычно обитающие на этой глубине. Также летом на этом сайте можно увидеть более редких рыб, таких как марлины или акулы.
ДАЙВ-САЙТ MERVILLE PATCHES (глубина: 13 м)
В этом месте свет проникает на морское дно, освещая отдельные участки рифа, разбросанные здесь и там. Сайт был назван в честь писателя Германа Мелвилла, потому что на идущих чередой рифах можно встретить многочисленные виды мурен. Богатая флора сайта является местом обитания эндемичных видов рыб. Данный дайв-спот можно смело рекомендовать фотографам, которые сделают здесь множество великолепных снимков.
ДАЙВ-САЙТ GRAND BAIE AQUARIUM (глубина: 14 м)
Этот дайв-спот будет особенно интересен фотографам, которые всегда находятся в поисках неглубоких, хорошо освещённых заливов. Морское дно здесь состоит из песка и кораллов и предлагает богатую и разнообразную фауну: встречаются небольшие мурены, электрические скаты, рыбы-ангелы, крылатки и спинороги…
ЛУЧШИЕ ДАЙВ-САЙТЫ ЗОНЫ В
ДАЙВ-САЙТ STENOPUS (глубина: 38-40 м)
Удивительный дайв-сайт со множеством императорских рыб, фланговых окуней, больших груперов и изобилующий косяками рифовых рыб, плавающих в густом лесу из зелёных кораллов, которые растут на больших каменных пластах. Если повезёт, то по другую сторону обрывов можно встретить красивых скатов. Нередки стаи тунца и барракуд.
ДАЙВ-САЙТ HOLT ROCK (глубина: 16-25 м)
Пейзаж этого дайв-сайта довольно необычен: множество кораллов вокруг нагромождения гранитных булыжников. Между ними прячутся гигантские спинороги, которых вы увидите, как только опуститесь в воду, а также губаны, рыбы-попугаи, рыбы-клоуны, люцианы, голожаберные моллюски всех цветов и размеров, рыбы-белки и великолепные горгонии. Если повезёт, то вам удастся увидеть и, возможно, даже погладить огромных яванских гимнотораксов, достигающих двух метров в длину, и заплывающих сюда из любопытства.
ДАЙВ-САЙТ CARAVELLE (глубина: 9-28 м)
Верхняя платформа этого обрыва спускается с одного плато на другое, между ними ходят косяки рыб. Здесь часто встречаются большие группы платаксов, барракуд и большеглазых каранксов, а также изредка можно заметить акул, которые приплывают сюда в поисках еды посреди кораллов.
ДАЙВ-САЙТ LOST ANCHOR (глубина: 24-30 м)
Здесь есть три огромных валуна, покрытых зарослями зелёных кораллов, которые формируют очень живописный пейзаж. На центральном возвышении, чуть выше небольшой пещеры, увитой горгониями, находится огромный покрытый кораллами якорь. Во время дайвинга здесь часто можно встретить рыбу-камень, скорпионов, рыбу-шар и даже омаров.
Затонувшие корабли на северо-западе острова
ДАЙВ-САЙТ EMILY ET WATERLILY (глубина: 25 м)
Две затонувшие в 1981 и 1982-м годах баржи Emily и Waterlily стали искуственными рифами и теперь таят в себе всё разнообразие фауны – местное богатство морской жизни гарантированно обрадует дайверов. Обломки расположены на широкой песчаной полосе и хорошо освещены. Здесь можно увидеть рыб-хирургов, красных крабов, раковины, желторотых мурен и косяки звёздчатых летринов.
ДАЙВ-САЙТ STELLA MARU (глубина: 17-25 м)
Stella Maru – это японский траулер, который затопили в 1987 году, чтобы создать искусственный риф. Судно располагается на песчаном дне напротив Тро-о-Биш и является пристанищем для косяков спинорогов. Помимо этого здесь водятся две дружелюные яванские мурены, рыба-камень, скорпионы, осьминоги, голожаберные моллюски, дно усеяно раковинами, а на развалинах можно увидеть разнообразнейшую фауну. На этот сайт хочется возвращаться снова и снова.