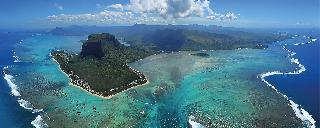 Managing energy resources has become a vital concern with petrol prices hitting record highs, issues associated with greenhouse gas emissions and global warming. To address these challenges, the Mauritian Government has introduced a series of measures for all future hotel and IRS developments.
As a leader in corporate social responsibility, Beachcomber Hotels was the first hotel group in Mauritius to take steps towards sustainable development with unique strategies designed to save energy and involve the community; including:
Setting up the required infrastructure to allow water saving and recycling
Implementing energy-saving technologies and policies
Establishing its own non-governmental organisation (NGO) to help the community
Saving water resources
Wastewater treatment plants
Beachcomber Hotels is aware of the need for water conservation and was the first company in Mauritius to invest in wastewater management systems. Each of our hotels is equipped with its own wastewater treatment plant. Our establishments situated on the Morne Peninsula, the Paradis Hotel & Golf Club and the Dinarobin Hotel Golf & Spa, reclaim between 600m3 and 800m3 of water daily, 60% of which is used to irrigate the gardens and golf course.
Water supply management
The faucets and showers in all the hotels of the group are fitted with flow restrictors and aerators. The use of these devices has resulted in a 50% reduction in water consumption without impacting the comfort of our guests.
Besides, informative stickers or leaflets have been placed in strategic locations in each hotel room to sensitise guests about the fact that they are in a water-stressed region and invite them to contribute to more efficient water use.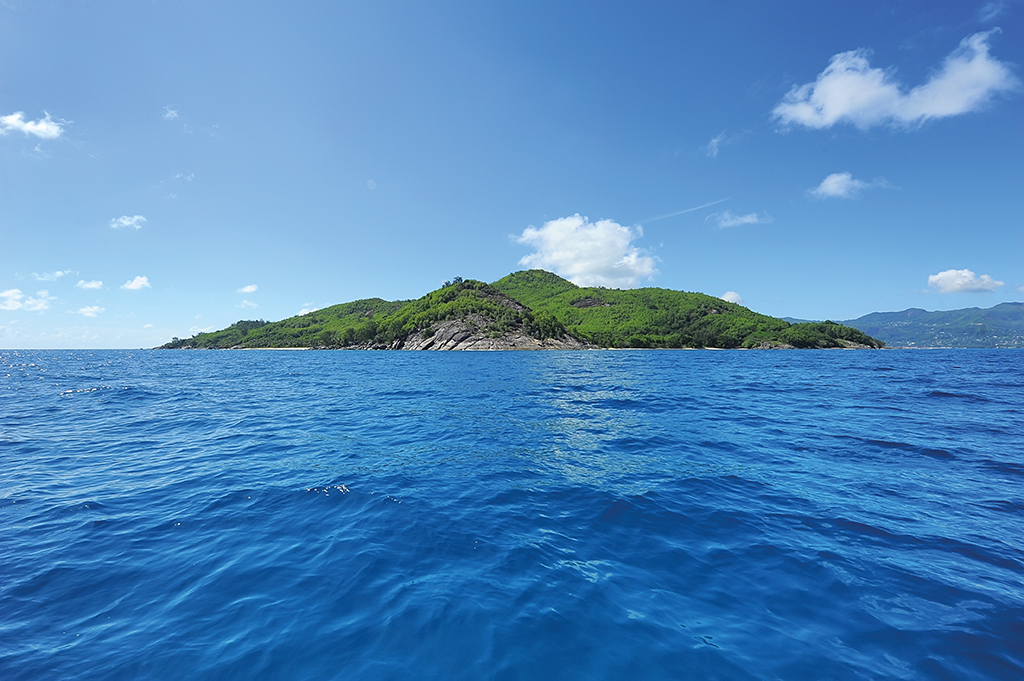 Desalination plants
Long before the country's authorities started talking about desalination, Beachcomber Hotels had already implemented this process. It was the first Mauritian group to invest in desalination plants, one of which was built in 2002 in Sainte Anne, in the Seychelles, and attached to the resort of the same name located on the island. Sainte Anne has since been equipped with a new machine that has a daily treatment capacity of 300m³ earlier this year to complement the existing capability.
Another unit producing approximately 800m³ of water per day was installed on the Morne Peninsula in 2007, which is enough to cover all the needs of both the Dinarobin Hotel Golf & Spa and Paradis Hotel & Golf Club. Out of the water produced by the desalination system, 650 m3 are used for domestic purposes and consumption while 150 m3 are dedicated to maintaining the golf course and the gardens. The daily desalination capacity available has now increased to 1,600m³ with a particular emphasis on irrigating the golf course.
The redevelopment of the Trou aux Biches Resort & Spa included the setting up of a desalination unit with a daily capacity of 450m³, which greatly helps in reducing the pressure exerted by the hotel on an already stressed public water system in this region of the island.
Saving energy
Air conditioning
While being a must-have for visitors, in-room air conditioning is among the most energy-consuming processes in hotels and accounts for at least 45% of their total energy requirements.
To save energy and better manage costs associated with the air conditioning of rooms, all Beachcomber hotels have already installed variable speed drives on the pumps that distribute chilled water through the air conditioning systems. This equipment regulates the distribution of cold water according to humidity levels, outside temperature and the occupancy rate of the resort. This helps to reduce energy costs while ensuring optimum comfort in the rooms.
Beachcomber Hotels has also invested in 'smart' thermostats to control in-room air conditioning. As soon as the room temperature reaches a certain point and/or when guests leave their room, the air conditioning system automatically switches off.
These technologies contribute to reducing electricity consumption and are likely to be implemented in all Beachcomber hotels.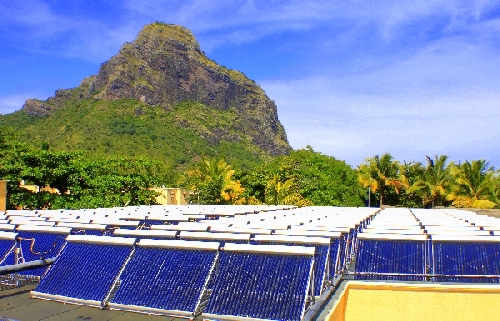 Solar energy
Beachcomber Hotels has made substantial investment in solar thermal systems over the past 5 years with the objective of replacing traditional hot water boilers fired with fossil fuel by ones using solar power in order to allow the hotels to save a significant amount of energy.
Le Mauricia was the first hotel in Mauritius to implement such systems in 2008, and was gradually followed by the Royal Palm, the Paradis Hotel & Golf Club, the Dinarobin Hotel Golf & Spa, the Trou aux Biches Resort & Spa and the Sainte Anne Resort & Spa.
To date, we have a total of around 3,700 m² of panels installed in our hotels, making us one of the largest users of solar thermal power in this region of the world.
We aim to complete the installation of solar thermal systems at the remaining hotels of the group by the end of 2014.
Lighting systems
Lighting is another big energy user without which a hotel cannot operate. With that in mind, Beachcomber Hotels has embarked on an ambitious light fittings replacement and bulb retrofit programme which will span several years with the ultimate aim of replacing energy intensive halogen and incandescent light technologies with LED lights and bulbs.
Already, LED lights accounted for 80% of the overall lighting throughout the new Trou aux Biches Resort & Spa upon its reopening in 2010 and the new Deluxe rooms at the Shandrani Resort & Spa have been fitted with 100% LED lighting.
LED technology consumes between 6 and 10 times less energy than an incandescent lamp for an equivalent light effect and even though their initial cost is much higher, returns on investment are very interesting.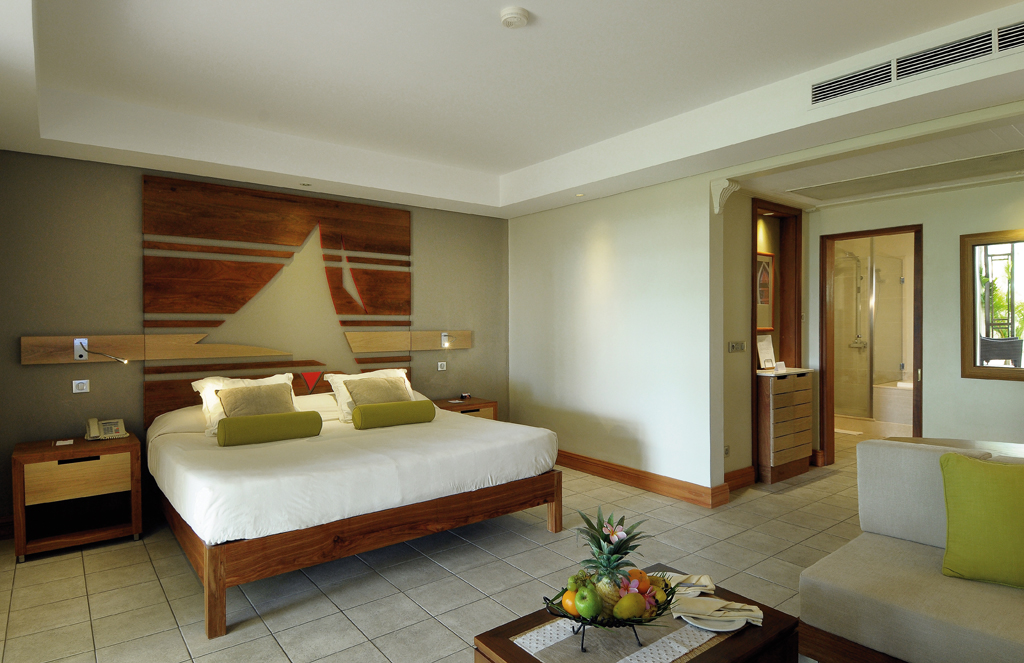 Forthcoming projects
Building Management Systems
In the near future, Beachcomber Hotels could also consider implementing Building Management Systems (BMS) technology. BMS are used in buildings to create a central computer-controlled method of monitoring and optimising facilities such as heating, air conditioning, lighting and security. These systems reduce energy waste as facilities are used only when needed. Our technical teams are presently working on several options and foresee the deployment of such systems as from 2014.