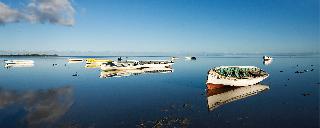 Pionnier de l'hôtellerie mauricienne
Beachcomber écrit les premières pages de l'histoire du tourisme mauricien dès juin 1952. À l'époque, Qantas lance une liaison Perth Johannesburg, en passant par l'ile Maurice. Rogers & Co. Ltd, représentant de la compagnie aérienne australienne, décide d'ouvrir le premier hôtel de standard international dans l'île – par l'entremise de sa filiale nouvellement créée, Mauritius Hotels – pour accueillir les passagers et équipages en escale.
C'est ainsi que, sous l'impulsion d'Amédée Maingard et de Michel Pitot, le château Mallac, une belle maison coloniale à Curepipe, est transformé en Park Hotel, un établissement de 40 chambres. A cette époque, avec un nombre annuel de 1800 visiteurs, cette démarche fut un acte de foi dans une industrie à peine naissante.
Malgré des conditions initiales peu favorables, l'aventure se poursuit avec la création de deux hôtels balnéaires, Le Morne Plage et ses fameuses « rondavelles » et Le Chaland, à proximité de l'aéroport, en 1962. Deux ans plus tard, New Mauritius Hotels (NMH) prend naissance de la fusion entre Le Morne Plage et Mauritius Hotels. En 1967, la société décide de construire l'hôtel Le Morne Brabant pour remplacer Le Morne Plage. L'établissement héberge, l'année suivante, les invités aux célébrations de l'accession du pays à l'indépendance.
Le Trou aux Biches Village Hotel, aujourd'hui l'un des joyaux de la collection Beachcomber, voit le jour en 1971. L'année suivante, l'aménagement du Dinarobin Pierre Desmarais, rattaché au Morne Brabant, vient étoffer le portefeuille hôtelier de NMH. En 1976, l'emblématique Paradis prend ses quartiers sur la péninsule du Morne.
Une évolution constante
L'histoire prend une tournure encore plus intéressante avec la création de la marque Beachcomber en 1980 et cinq ans plus tard, l'inauguration à Grand-Baie du Royal Palm, premier palace du pays. Cette adresse phare du tourisme haut de gamme dans l'île, est le premier établissement mauricien à intégrer la prestigieuse collection d'hôtels 'The Leading Hotels of the World'.
La décennie suivante est marquée par la reconstruction en 1991 du Chaland, rebaptisé Shandrani, et le rachat un an plus tard du Pullman, à Grand-Baie, qui deviendra Le Mauricia. En 1994, le Mariya, à Pointe-aux-Piments, est racheté et refaçonné pour donner naissance à l'hôtel Le Victoria. Le rachat du Canonnier, à Pointe aux Canonniers, vient élargir davantage la collection en 1997. Durant la même période, NMH décide de regrouper le Méridien Brabant et le Paradis, qui deviennent le Paradis Hotel & Golf Club.
Un savoir-faire qui s'exporte
La marque Beachcomber étend son empreinte au-delà des rivages mauriciens avec l'ouverture en 2001 du Sainte Anne Resort & Spa sur une île privée de 220 hectares au cœur d'un parc marin aux Seychelles. En parallèle, le Dinarobin est créé sur la péninsule du Morne.
En 2010, le Trou aux Biches est reconstruit en un resort 5-étoiles, baptisé Trou aux Biches Resort & Spa. L'aventure régionale se poursuit également avec l'inauguration en décembre 2013 au Maroc du Royal Palm Marrakech, qui opère depuis mai 2017 sous le nom de Fairmont Royal Palm Marrakech après la signature d'un accord de gestion avec la marque de luxe du groupe Accor. Le groupe a, en outre, lancé en 2016 sa première franchise, Beachcomber French Riviera, sur la Côte d'Azur en France.
Beachcomber compte actuellement 10 resorts offrant un choix d'hébergement allant des villas et suites aux appartements et chambres. Chaque pièce de cette prestigieuse collection est empreinte d'une histoire et d'un cachet particulier, incarnant une image de luxe discret. New Mauritius Hotels englobe aussi une entreprise de restauration aérienne, Beachcomber Catering, et trois tour-opérateurs à l'étranger.
Ancrage dans l'identité mauricienne
L'histoire de Beachcomber ne se résume toutefois pas qu'à une succession de dates. C'est aussi, et surtout, l'histoire de quelque 5 000 artisans dont la bonté vient sublimer au quotidien la beauté naturelle des lieux qui leur ont été confiés. Piliers du groupe, ces hommes et ces femmes ont façonné et pérennisent l'âme de Beachcomber et lui ont permis de jouer un rôle-clé dans le développement économique du pays, avec un chiffre d'affaires annuel de presque Rs 10 milliards.
Un groupe qui, à la veille du 50e anniversaire de l'indépendance du pays, revendique fièrement son ancrage dans une identité mauricienne plurielle, Beachcomber est aussi un pionnier en matière de responsabilité sociale de l'entreprise.
Créée et financée par Beachcomber avec la participation des hôtels et des employés, la Fondation Espoir Développement (FED) met en place, depuis 1999, les stratégies de développement social du groupe. Elle soutient également son engagement envers les communautés avoisinantes de ses hôtels et la population mauricienne dans son ensemble à travers des actions telles que le Projet Employabilité Jeunes (PEJ) pour l'insertion professionnelle de jeunes déscolarisés, une collaboration avec des ONG, écoles et associations, ainsi que des projets régionaux d'encadrement des jeunes. Lancé en 2006, le programme Beautiful LocalHands soutient aussi les petits artisans locaux en leur offrant une formation et un accompagnement adéquats.
Le développement durable et la protection de l'environnement sont également des sujets concrets au sein du groupe, qui a notamment mis en place des pratiques qui assurent des économies d'énergie et privilégient les énergies renouvelables. Un engagement reconnu par la récente accréditation EarthCheck Benchmarked Bronze obtenue par le siège du groupe, Beachcomber House, ainsi que les hôtels Paradis Beachcomber et Dinarobin Beachcomber pour leur adoption de pratiques environnementales responsables.
Voir la Beauté et Vivre la Bonté
L'arrivée d'une nouvelle direction, avec à sa tête Gilbert Espitalier-Noël comme Chief Executive Officer, a permis de consolider la dynamique du groupe. Un nouveau projet d'entreprise s'est mis en place à l'aube du 65e anniversaire de Beachcomber, avec un certain nombre d'initiatives visant à mieux armer le groupe pour faire face aux enjeux d'une industrie touristique mondiale en constante évolution.
L'un des axes prioritaires a été le repositionnement de la marque Beachcomber et le dévoilement en septembre 2016 d'une nouvelle identité visuelle articulée autour du concept « The Art of Beautiful ». Une étape préalable a été la conduite de l'exercice « Beachcomber, au Cœur des Valeurs », qui a permis une réflexion collective approfondie, avec la participation de quelque 600 artisans du groupe. Huit valeurs ont ainsi été identifiées, notamment : humain, esprit d'équipe, innovation, solidité, mauricien, savoir-faire, service et confiance.
Au-delà d'un exercice de design, le nouveau branding de Beachcomber s'inscrit dans la continuité du travail initié sur les valeurs intrinsèques du groupe et de sa stratégie d'entreprise, tout en assurant une cohérence de la marque. Beachcomber a choisi le symbole du nautile, car son nom veut dire « celui qui découvre le matin sur la plage les plus beaux coquillages que la mer a déposés ». Avec son B central, il devient également un signe solaire, irrigué par les mouvements de l'eau sur le sable.
« The Art of Beautiful », c'est Voir la Beauté et Vivre la Bonté. C'est l'essence de ce qui fait la singularité de Beachcomber : la beauté des lieux est renforcée par la bonté des gens. Sans réinventer Beachcomber, ce rebranding révèle son supplément d'âme et ce qui fait sa différence. Et comme un art ne peut exister sans ses artisans, un programme complet de rituels a été créé avec toutes les équipes pour accueillir les hôtes des établissements du groupe et leur faire vivre des moments d'exception.
Célébration en beauté
Afin de célébrer dignement cet anniversaire, Beachcomber déploiera toute une série d'actions au cours du mois de juin. Un logo a été créé pour marquer l'événement, accompagné de la signature suivante : « 65 Years crafting the Art of Beautiful ».
Pour en faire profiter la clientèle également, une offre spéciale leur est proposée : toute personne qui, comme Beachcomber, célèbre ses 65 ans cette année, bénéficiera d'une remise de 35 % lors d'un séjour dans un hôtel Beachcomber.
Parmi les autres initiatives prévues exclusivement pour ce mois d'anniversaire figure une exposition de photos dans chacun des hôtels du groupe. Les clients des boutiques Beachcomber pourront profiter d'une remise de 11 % sur leurs achats et sur un plan plus général, de nombreux petits clins d'œil – pâtisseries, chocolats et autres cadeaux frappés du logo commémoratif – feront directement référence au 65e anniversaire du pionnier et leader historique de l'hôtellerie mauricienne…